I don't understand the economic characteristics of Audible's business model, but I'm grateful for it.
For £8 / month you get one credit, which buys you any book on the platform, plus a selection of free audio shows. That's a pretty good deal because buying the audiobooks without a subscription usually costs somewhere between £10 - £70, depending on the book. In addition, if you have a subscription you're also allowed to buy three books at a time for £18. You keep the books forever once you buy them.
I guess Audible is giving UK subscribers a really good value proposition in order to get them onto the platform - the US subscriptions are not as generous ($15 for one book every month, with no steep discount for extra books). Whatever their reasons, I've taken advantage of this great deal, buying over a hundred audiobooks over the last couple of years.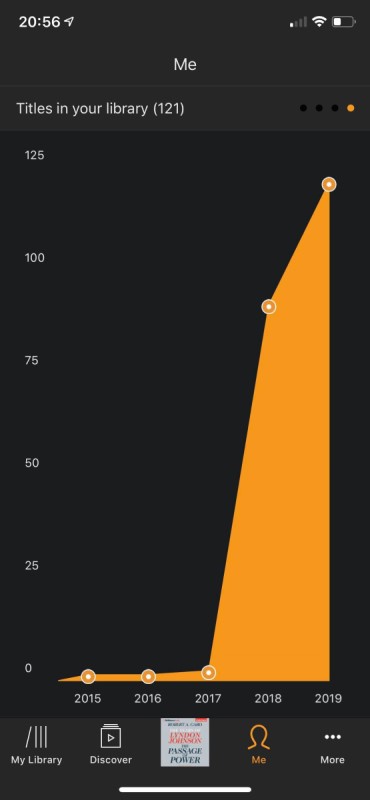 Audiobooks have some great advantages over print - you can "read" while at the gym, walking to work, or doing anything else that doesn't require deep focus. It works well for most fiction, and narrative non-fiction like biographies too. It doesn't work as well for dense content where you have to think a lot or take a lot of notes.
I'm usually reluctant to read 1000 page books unless they really interest me, but at about 40 hours of audio, it's something I can finish in a month at the gym at 1.5x speed.
For people looking to get into audiobooks, here are some recommendations.
Five Recommendations
A masterpiece. When I first heard about this five-volume biography of American president Lyndon Johnson, I wondered why someone I had barely heard of would have such a long biography (around 4000 pages in total so far, and volume 5 hasn't been released yet), and why it had so many adoring fans. Well, now I'm one of those fans.
This biography is not really about Lyndon Johnson. Or at least, it's not just about Lyndon Johnson. It's a grand exposition of the nature of politics and power, seen through the eyes of one man who was adept at creating and capturing political power for himself.
If you want to understand how politics really works, and how successful politicians really think, you'll want to read this series.
I heard someone say that ancient epics like the Iliad and the Odyssey are better listened to than read. They originated as part of an oral tradition, and audio is the medium they were designed for. I agree, reading the Iliad was a chore but listening to it I could enjoy.
The story of the Theranos scandal that rocked Silicon Valley recently, written by the journalist who exposed the scandal.
A dark novel about murders in a Franciscan monastery in 13th century Italy. Works very well in audio, the narrator does a great job with the text.
This one is a lighter and easier listen. Bill Bryson is the funniest travel writer I've found, and this book about his travels in Europe is hilarious.